Globally Recognised
ASQ Six Sigma Training Program
Offering through Online Classes Now.
Next batch Starting from 5th April 2021.
Lean Six Sigma is a proven management methodology that systematically reduces variation and waste in processes using statistical, analytical and logical tools. Successful implementation of Lean Six Sigma gives a huge competitive edge which improves processes, maximizes business efficiency and adds to the bottom line of the organizations.
American Society for Quality (ASQ) certification can take your career from ordinary to extraordinary. ASQ's products and services are based on the global best practices perfected over the past 70 years of ASQ's inception under the leadership of doyens of quality like Dr. Joseph Juran, Dr. Edward Deming, Dr. Walter Shewart, Dr. Philip Crosby among others.
ASQ Body of Knowledge (BoK) has been created collaboratively with Fortune 500 companies, viz, BMW, GE, DuPont, Honeywell, Boeing, Lockheed Martin, Google, Apple and others.
Lean Six Sigma Yellow Belt
Lean Six Sigma Green Belt
The Six Sigma Green Belt supports or lead projects under the supervision of a Six Sigma Black Belt, analyses and solves quality and Business problems, and significantly contributes to break-through Improvements in the organization.
Duration: 16 Days
Days: Monday – Friday
Timing: 5:30 PM – 9:00 PM (IST)
Certified Six Sigma Black Belt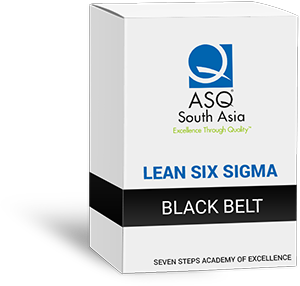 The Certified Six Sigma Black Belt is a professional who should explain Six Sigma philosophies and principles, demonstrate team leadership, understand team dynamics, and assign team member roles and responsibilities and guide them for successful six sigma project execution.

Duration: 29 Days
Days: Monday – Friday
Timing: 5:30 PM – 9:00 PM (IST)
Why ASQ Six Sigma Training & Certification?
With presence in nearly 140 countries and more than 35,000 training participants per year, ASQ Lean Six Sigma certification is considered a hallmark of excellence across all industries around the world.
This program is designed to provide you the knowledge and skills to enable them to apply and implement six sigma methodology for improvement in projects. These trainings will also help you in implement DMAIC methodology (Define, Measure, Analyze, Improve, Control). It will help you in measuring current performance of project, rectifying root causes of issues and figuring best possible implementable solutions.
Who should take this course?